ARTIST STATEMENT
Much of my work uses cardboard as a sculptural material due to it immediacy, ease of availability, reasonable cost and low environmental impact. My intention is to produce sculptures that echo the detail and depth found within traditional sculpting materials at a time of great global economic and environmental upheaval. My work is a search for a common truth and to find a sense of quiet humanity in the small details that are sometimes drowned out by the noise and brightness of contemporary culture.
I like to transform the utilitarian and overlooked cardboard box into a sophisticated and elaborate sculpting material. With this, I create life size, three-dimensional portraits of people and animals, and anatomical models and furniture, including a monumental-scale commission for the Lucca Biennale in 2018.
The process and outcomes of making my work have always been intertwined with the practicalities of sculpting with a physical impairment. I lost my right leg to cancer when I was a teenager, so I spent time searching for an accessible and readily available material that I could use from my bedroom whilst rehabilitating. I create my work in pieces and then strategically position them together like a grand jigsaw puzzle to make the final design. This echoes the problem-solving skills that dyslexics, of which I am one, develop to write things down in a coherent manner.
Ingrained in my process is the desire to teach and demonstrate the techniques I use with others. Often working with schools, community groups and museums, I want to make sculpture accessible and blur the boundary between high art and low art for all audiences. I believe in art for all; art beyond race, gender, age, wealth, ability and disability.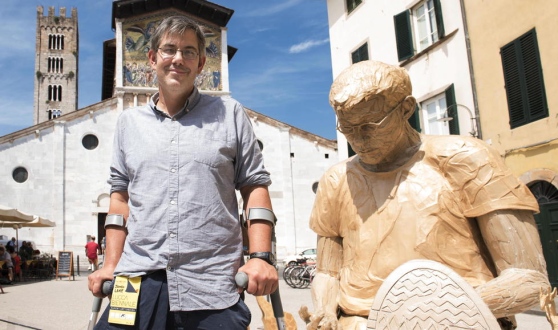 SELECTED EXHIBITIONS
2019   Body Parts, China House, London
2018   Shape Arts: Retrospective, Hoxton Arches, London
2018   Lucca Biennale, Lucca, Tuscany
2017   Outside In Journeys, Sotheby's, London
2013   Gold Run, Pallant House Gallery, Chichester and The Lightbox Gallery, Woking
2012   Gold Run: Remix, Dilston Grove, London
2010   TACO 3D (Torre Abbey Contemporary Open), Torre Abbey, Torquay, Devon
COMMISSIONS
2019     Stanley Security Ltd – I used recycled materials to create a large-scale installation based on a world map to go in main reception, Exeter
2018     Ikea – To celebrate a new store opening in Exeter I was commissioned to make cardboard furniture based on their designs
2017     Rajapack – I was commissioned to make a short video using cardboard to show the 'Art of Recycling'
2017     Brewhouse Theatre & Arts Centre, Taunton – I was commissioned to create an installation to mark the anniversary of the Brewhouse Theatre
2014    Olympic Park, London – For National Paralympic Day I was commissioned to make cardboard hands showing BSL
AWARDS
2018   Lucca Biennale: Lifetime Achievement Award
2009   TACO 3D (Torre Abbey Contemporary Open): People's Choice Award